The ornament is returning slowly to the architectural discourse. It has not really been absent though merely denied, but it is returning as a more prominent topic now.
A key text is Adolf Loos' Ornament and crime (Ornament und Verbrechen) (1908) that was widely interpreted as at the easement of ornament in architecture. More recent interpretations (for example Gleiter, 2012) however is more differentiated. Already the title in which Loos uses and hints at this. Nevertheless ornament was denied a role in modernist architecture and is still a minefield for architects today.
Image taken from designboom / A proposed project spelling out the letters 'BE' for buildings in Brussels by JDS in 2007.
The way for the reintroduction of ornament has been paved by technology interestingly enough. In the late 80ies and especially the 90ies CAD tools have presented the tools to begin to design with patterns including options to manipulate the pattern based on conditions. This has also the been linked to production and printed glass or pierce metals facades or even brickwork layer by robots (Bearth & Deplazes with Gramazio & Kohler, 2006).
This has been accompanied by theoretical writings, exhibitions and journals. For examples the exhibition at the SAM Re-Sampling Ornament in 2008. The architecture journals ARCH+ (1995/2002), l'architecture d'aujourd'hui (2001) or AD primers, Ornament: the politics of architecture and subjectivity (2013) for example have published on ornament during this early phase. Authors who have contributed to the now re-emerging discussion on ornament include Jörg H. Gleiter ((orig. German, 2002. Die Rückkehr des Verdrängten)), Michael Dürfeld (The Ornament and the Architectural Form (orig. in German, 2008. Das Ornamentale und die architektonische Form)) or Farshid Moussavi (The Function of Form, 2008).
The new possibilities in design and production using new technologies have allowed to re-imagine the relationship between design, production and product. Whereas at the time Loos wrote Architecture and Crime the industrialisation introduced the production of exact replicas into the thousands of one single product, the new technologies based around computers allow for a trance dent workflow and individually adapted and styled objects whilst still machine and mass produced. Hence the conditions have fundamentally changed.
What can be observed is, though very slow moving, a shift from an understanding of ornament as decoration to an interpretation of ornament as process in the sense of structure and narrative.
A special take on this is presented by Michiel van Raaij in his new publication Building as Ornament. Whilst van Raaij focuses on iconographic architecture he proposes building as ornament as a term to frame part of this discussion in a new way implying links to a theoretical discussion with references to a long tradition.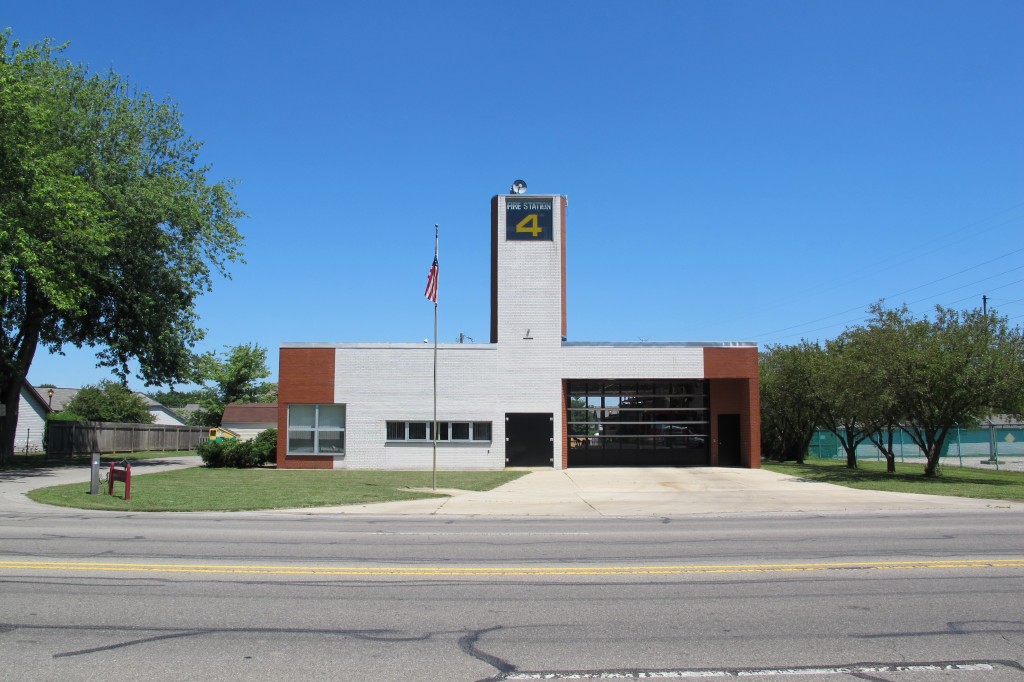 Image taken from 52weeks / The Fire Station 4 in Columbus by Venturi Scott Brown and Associates in 1968.
Van Raaij's idea is to try and focus on the story the architect tries to tell through an iconic building. He argues that "Iconography is the use of images from outside architecture in architecture" and that the focus of the book is on "iconography that explains the function, social status, organisation, load-bearing structure and/or context of the building". He makes the link to ornament using the narrative in the sense of explaining something.
The book brings together over 100 examples to illustrate this notion. This ranges from the Yokohama International Port Perminal by FOA, 2004, to the Bird's Nest Stadium by Herzog de Meuron in 2008 or the People's Building in Shanghai by BIG, 2004.
Whilst the book does not offer a theoretical framework for the introduced terminology or a broader discussion on the theoretical dimension of such a 'new' aspect of ornament in architecture, it presents a conversation. The publication is on one had a collection of projects that fit the description iconographic architecture and it is on the other hand a collection of interviews in which the author van Raaij discusses iconographic architecture with architects and architectural historians.
Image taken from architecture.com / The Signal Box in Basel, Switzerland by Herzog de Meuron in 1994.
The interview partners are, in order of appearance: Auke van der Would, Charles Jencks, Denise Scott Brown, Adriaan Geuze, Michiel Riedijk, Alejandro Zaero-Polo, Ben van Berkel, Steven Holl, Winy Maas and Bjarke Ingels.
All of the interview partners of course have a different angle on the topic and in some conversations the focus is more on icons, narratives, construction or material. Some do specifically discuss ornament as in the recently emerging debate, so for examples the interview with Denise Scott Brown where she discusses aspects of the design for Fire Station 4 in Columbus. She emphasises the very same topics of structure and narrative the ornament discussion is moving towards. Other interviews do however not even touch ornament.
There is loads of material and a very interesting discussion around icons in architecture and iconographic architecture to be found in this book. This is clearly the focus of van Raaij's work and his personal interest. He has been running a blog on iconic buildings for a long time and he knows the projects in this field. The real contribution of this book is definitely to hear the architects, as described by van Raaij as the Generation OMA, to talk about icons and iconographic design processes in architecture. There are some very personal statements in these discussions that shed light on some of the famous icons this current generation of architects have developed. It demonstrates that there is more to the discussion of iconic architecture than it just being a land mark put up by an architect to make a bold statement.
Through out the book the terms ornament and icon/iconographic architecture are used interchangeably. And it turns out that ornament only plays a small role setting the stage in this nai010 publishers book. Even though one could have expected quite some potential in this take on ornaments, not as a complete explanation, but as a special case of ornament on the level of the building. More contextual material would be needed to define a clear standpoint.
However, the chosen title, it has to be said, is very cleverly chosen. It is catchy, provides a lot of historical context, touches the nerve (both of time and architects still hating ornaments, as they have been told to do in architecture school?) and it is simple enough to be self-explanatory whilst allowing room for imagination. Nevertheless for the reader who is looking for the specific topic on ornament it might mean to be disappointed, but not without discovering an interesting collection of personal discussions on iconic architecture.
Image taken from designboom / Book cover.
Van Raaij, M., 2014. Building as Ornament. nai010 publishers, Rotterdam.
Continue reading »